Make no mistake, the tech industry is in a world of hurt right now.  But there are signs that the worst might be behind us.
2022 and 1H2023 were terrible:
The numbers and sentiments look pretty grim.  Here are a few snippets:
CB Insights charted the decline in tech valuations by stage of development from Q1 2022 to Q1 2023. It's heart-stopping.  See Table 1.
Source:  CB Insights    Link:  www.cbinsights.com
It is curious that early-stage companies fared better.
Crunchbase charted the decrease in venture funding by quarter from 2020 – 2023 Q2 in Graph 2:
Graph 2:  NA Venture Investment by quarter 2020 – 2023 Q2
Link: https://news.crunchbase.com/venture/vc-funding-falling-report-data-q2-2023-north-america/ 
 Venture funding was down 63% by the end of 2022.  There were few investments in new companies as any tech entrepreneur looking for funding can echo.
360,000 jobs were lost since the beginning of the downturn; a major reversal from the frenetic pace at which jobs were being created in 2021.
Is the decline over?
 There is reason for optimism that the worst may be behind us.  Here are some phoenixes rising from the ashes.
We have hit bottom in SaaS valuations. The SaaS Capital Index updated monthly by SaaS Capital shows a crash from 16x in 2021 to 6x in 2022 in Graph 3.  However, the index stopped falling in early 2023 and has remained steady.
Graph 3:  SaaS Capital Index from 2008 to May 31, 2023.
Source: https://www.saas-capital.com/   https://www.saas-capital.com/the-saas-capital-index/ 
Although NASDAQ crashed from its peak of 16,057 on Nov 18 2021 to 10,497 on Dec 12, 2022, since then it has rebounded to 13,816 as of July 2, 2023. That's a big 32% up-tick.
While AI is getting most of the attention currently, there are other sectors that are quietly kicking into a higher gear. Graph 4a shows that the ROBO Global Robotics and Automation Index ETF (NYSE ARCA: ROBO) has rocketed from its low of 40.9 on Oct. 11 2022 to 57.79 on June 29, 2023.  Graph 4b shows that the Global X Robotics & Artificial Intelligence ETF (NASDAQ: BOTZ) has similarly climbed from 17.67 to 28.30 over the same period.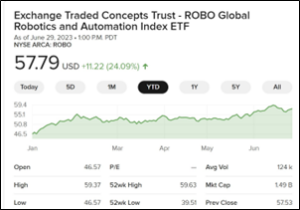 Graph 4a: Performance of Robotics and Automation Index ETF in 2023 to June 29.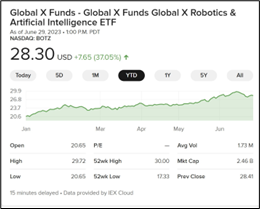 Graph 4b: Performance of Global X Robotics & Artificial Intelligence in 2023 to June 29.
Generative AI is all the rage today
For good reason.  Unlike search engines which search for keywords or phrases which match a user input, Generative AI can create new text or images by assembling and optimizing vast content in its databases in response to a natural language query.  It is already in wide use worldwide to simplify many tasks.  It could be a major leap in productivity rivalling the introduction of the world wide web to the public in 1991.
Until the sudden introduction of Generative AI in late 2022, AI was just another technology fighting for funding and attention from the tech industry.  The CB Insights graph in Graph 5 shows that AI funding was on a 3-year losing streak since 2021. Global AI funding fell to $5.4B in Q1 2023, a big drop from $19B in Q1 2021. The number of deals slid steadily from 972 in Q3 '21 to 554 in Q1 '23.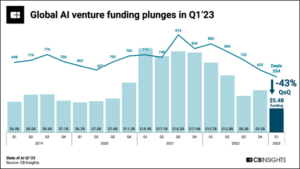 Graph 5: Global AI Venture Funding by Quarter from 2019 to Q1 2023.
Source:  www.cbinsights.com
CB Insights also looked at the US numbers separately.  Graph 6 below shows that the US investment pattern mirrored the worldwide decline but in Silicon Valley investments have rebounded in Q1 2023.
The Valley surge was driven by a few huge investments totalling $1.2B directed to Generative AI.  Those investments were at revenue multiples of 145x for Open AI, 200x for Hugging Face and 1500x for Runway.  Investors are clearly anticipating phenomenal growth in the Generative AI revenue to justify these lofty valuations.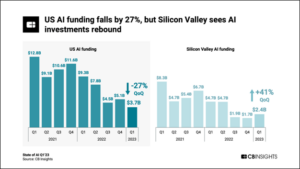 Graph 6: Global AI Venture Funding by Quarter from 2021 to Q1 2023.
Source:  www.cbinsights.com
Generative AI has captured attention and funding like no other sector before it.  In this sector, it feels like 2021 again.  CB Insights compiled a list of the first 13 unicorns shown in Graph 7.  OpenAI is the gorilla in the sector so far.  It has a significant lead: founded in 2015 by Silicon Valley veterans Elon Musk, Sam Altman, and Peter Thiel among others, it has raised over $11B in 7 financing rounds.  But with the billions in funding directed at Generative AI, this picture could change quickly.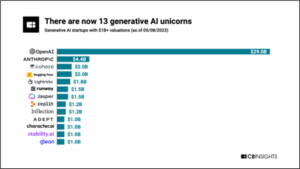 Graph 7:  The First 13 Generative AI Unicorns
Source:  www.cbinsights.com
Invidia, which makes the specialized silicon chips needed to run AI, has recently broken through the Trillion Dollar Valuation mark, tripling in 2023, and driven by the viral popularity of generative AI.
The top 5 largest rounds in Q1 2023 went to generative AI companies.
CB Insights examined M&A and IPO activity in the AI sector since 2019 in Graph 8. The global number of AI M&A deals was highly volatile by quarter in 2021 and 2022, but averaging the quarterly numbers, AI performed better overall than venture funding as shown in Graph 5.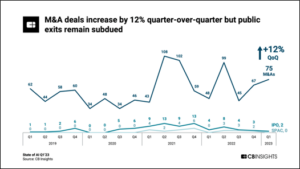 Graph 8:  M&A and IPO activity by quarter 2019 – Q1 2023
Source:  www.cbinsights.com
The Reason for Optimism
The meltdown of 2022-2023 abruptly halted a thirteen-year bull run in equities, particularly in the tech sector.  It was the longest bull run in during the careers of people working in the public markets, and its end felt apocalyptic.  But downturns are a regular feature of the equity markets, particularly the tech sector which is fueled by optimism and sometimes exuberance.  So, when tech equities crash, it feels worse.
But recessions typically don't last long.  The recessions of 2000 and 2008 lasted only 8 and 18 months.  Then optimism returned to the market along with more funding, higher valuations, more IPOs and M&A deals.
There are a few green shoots appearing which may indicate that for the tech sector, the recovery may start soon:
The NASDAQ is up 32% from its recent lows. It is always the leading indicator of a recovery.
SaaS revenue multiples have stabilized.
Automation and robotics are booming.
Generative AI has sparked worldwide interest in a potential paradigm shift and tens of billions have been invested at high valuations.
There is still about $2 trillion in "dry powder", or funds that are sitting in Venture Capital, Private Equity and Family Foundations, that needs to be invested.
While there continues to be a plethora of bad news, positive events, like generative AI are beginning to occur.  We are 20 months into the current downturn so we are overdue for a rebound.  The money is waiting.  We need the new shoots to grow into large plants to encourage investment to resume, creating more companies, growth and wealth, the foundation of a strong economy.